Why You Should Consider A Truck Wrap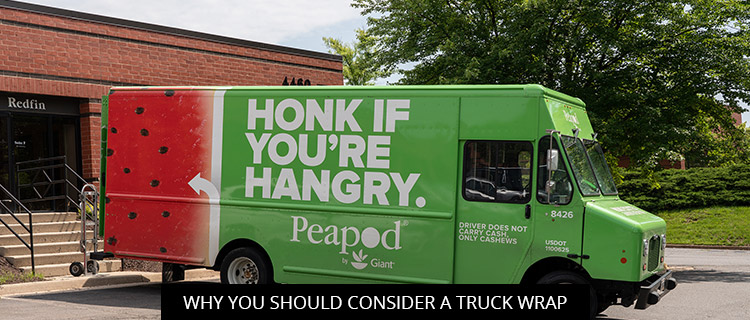 If your East Coast business utilizes one or more work trucks, there are many good reasons to have a vehicle graphic, specifically a truck wrap, installed.
What Is A Truck Wrap?
A truck wrap is a type of vehicle graphic. Vehicle graphics can turn work vehicles into mobile billboards. A vehicle graphic could include the name of your business, your logo, a slogan, an address, a web address, a telephone number, and/or an eye-catching image or graphic. There are different types of vehicle graphics. One type is simply vinyl lettering which is great for displaying text. Decals are small-scale graphics that can be installed on different parts of your vehicle. Vehicle magnets are usually a similar size but they can be removed and repositioned whenever you want.
A wrap is the largest type of vehicle graphic. Instead of appearing on just one side of vehicle, a wrap appears on multiple sides of the vehicle, thus wrapping around it. Being so large, wraps can generate the most impressions. They are bold and unmissable.
What Are The Benefits Of A Truck Wrap?
With a truck wrap you can advertise your business everywhere you drive. A truck wrap costs significantly less than making and broadcasting a television ad or radio commercial. And those forms of advertising require recurring fees to stay on the air. A truck wrap requires a one-time modest investment and they're always promoting your business everywhere you go.
How Do Truck Wraps Work?
Any business can use vehicle graphics but they're especially popular among tradespeople. Imagine a plumber who lives in the Myrtle Beach area. They might spend Monday and Tuesday working a job in Garden City, then work two different short jobs in North Myrtle Beach on Wednesday, and then end the week commuting to Conway. That's a lot of driving all over Horry County.
Without a truck wrap, that's just time lost commuting and money spent on gas. But with a beautiful wrap, that's time spent promoting your business. You'll never know who will see your truck, but out of the thousands of people who see your vehicle, some are bound to be interested in your services.
Work With East Coast Signs & Graphics To Brand Your Work Vehicles.
At East Coast Signs & Graphics, we can design graphics and logos to turn your truck into a mobile billboard. We fabricate truck wraps at our location and can install them on vehicles for clients anywhere on the East Coast.
To learn more about truck wraps, or any of our other products and services, please get in touch with us, either via our website or by calling us at 843-429-8227.
Back